As one of the most recognized options for orthodontic treatment, clear aligners are comfortable, removable, and virtually invisible, making them an ideal treatment option for busy teens and adults with concerns about aesthetics and convenience.
Unique Aligners, Just For You
Prescribed by your dentist, clear aligners move your teeth in tiny increments to the desired, straightened position.
You aligners will be created based on digital impressions taken of your teeth during a careful initial examination by your dentist. They will be precisely calibrated to fit your teeth as they move, at each stage of your treatment plan. 
It's The Clear Choice
For many people, teens and adults alike, the aesthetic issues that come along with wearing traditional metal braces can be discouraging when it comes to making the decision to undergo orthodontic treatment.
With clear aligners, you can smile with confidence.
Clear aligners are made of a clear, BPA-free plastic, making them almost invisible when worn. That means you can get the straight, beautiful smile you've been imagining without that obvious 'braces' look during treatment.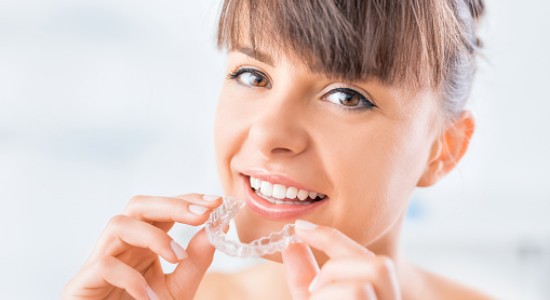 Clear Convenience
Unlike traditional metal braces, clear aligners can be removed during mealtimes. That means you can continue to eat all the foods you love, with no limitations!
You can also take your aligners out when you brush and floss your teeth, so you don't have to make any changes to your normal oral hygiene routine.
And Fewer Appointments
You lead a full, busy life, and fitting frequent adjustment appointments into your schedule isn't always easy.
With clear aligners, you can change out your aligners yourself, bi-weekly, so you only have to make time in your schedule to see us for checkups.
Clear Aligner Aesthetics
Your clear aligners are made of smooth, BPA-free, transparent plastic and are custom-designed to fit your teeth exactly. As a result, when you're wearing them, they're quite difficult for the casual observer to see.
The result? Your friends, co-workers, and even your date may not notice that you're undergoing orthodontic treatment.
You will be surprised at how many people you meet that don't ever catch on that you're undergoing orthodontic treatment!
And, since you can take your aligners out to eat, you don't have to worry about food getting stuck in your brackets and wires (as you would with braces), creating embarrassing situations.
Our Clear Aligner Providers
Our Member Providers are trained in prescribing clear aligners and managing the treatment process, and have provided successful treatment for hundreds of patients in the Lower Mainland BC area. 
Our dentists are always building on their extensive base of professional knowledge, and regularly participate in Continuing Dental Education in clear aligner therapy and cosmetic dentistry, to make sure you get the best results possible.
Each has an extensive history of excellence in dentistry, and adheres strictly to the highest clinical standards. You can trust our dentists to be there for you each step of the way down the path to the straight smile you've always wanted.